"Happy Halloween!"
Introduction
Pumpkin was obtainable during both the 2016 and 2017 Halloween Events. One involved surviving a boss while the other involved suriving and beating a boss. This class is only obtainable every Halloween Event.
Appearance
Pumpkin resembles a Jack-o-Lantern. It has two wrist-bands shaped as pumpkins and 3 vertical neon lines running up it's torso. Small bits of vegetation pop up around the model. On its back is a replica of Striker's face.
Specialties
While the majority of Pumpkin's attacks have a long range, they are shotgun-like attacks, and they work best at a close range. All of Pumpkin's attacks have large cooldowns to compensate for their strength.
Moves
| Title | Name | Description | Effect | Damage | Range | Cooldown |
| --- | --- | --- | --- | --- | --- | --- |
| Ability 1 | Fire Blast | After 0.5s delay, blast out 5 fireballs that deal damage. | None | | | |
| Ability 2 | Flame Drop | Cast down 3 fireballs falling down on all enemies in front of you, deals damage. | None | 200 per fireball | | |
| Ability 3 | Flame Burst | Blast out a huge fireball and dash backwards... | Burn | | | |
| Critical | Trick or Treat | After 1s delay, explode and deals huge damage to all enemies around. | | | | |
Tips
Trivia
To get this class, you have to beat the Pumpkin Boss
This class was available during the 2016 and 2017 Halloween Events.

Therefore, it'll probably be available during the 2018 Halloween event.

In v3.4.1, Pumpkin was redone. This changed its appearance to what it is today, but it kept the same moves as the old pumpkin.

It was redone again in 3.4.2, which gave a new moveset.

For information on the previous versions, keep on scrolling down.
Introduction
The old Pumpkin was also obtained by surviving Striker.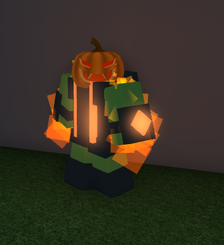 Appearance
The old pumpkin had wrist-bands with neon diamonds on them. It also had two vertical neon lines going down the torso. On its head is a pumpkin mesh.
Specialties
The old Pumpkin actually isn't that different from the revamped one. The appearance is the only major difference.
Moves
Title
Name
Description
Effect
Damage
Range
Cooldown
Attack
Fireball
Shoots a Fireball that can go through walls.
None
150
∞ Studs
.3 Seconds
Ability 1
Fire Spread
Shoots 5 small fireballs in 5 directions
None
75 per fireball
∞ Studs
4 Seconds
Ability 2
Fire Blast
Shoots a big fireball that will apply Burn Effect on hit.
Burn Effect
Fireball: 75

Burn Effect: 85x3

∞ Studs
5 Seconds
Critical
Pumpkin Trick
Gain 80 move speed and after 2 seconds, pumpkin explodes and deals AoE damage, also applying Burn Effect
Burn Effect
Explosion: 400

Burn Effect: 85x3

?? Studs
N/A
Tips
Don't stop shooting. Ever. You never know what enemies lurk behind walls and corners, might as well play it safe and kite.
Try to land all the fireballs from Fire Spread.

It'll deal a total of 375 damage.

Make sure you land Fire Blast, the Burn effect will help a lot.
Stay away from Melee classes that deal high damage.

Your low health and small damage output won't do so well.
Instead hit them from a distance.